Triathlon | Adventure Championships 2022
Adventure Championships 2022 Triathlon
Snowman Standard
The second instalment of the Adventure Championships, the Snowman Triathlon is not only the toughest event of the Adventure Championships but also known as the toughest event in the UK.
The Snowman encompasses all that is the adventure playground of North Wales offers and is infamous for a reason - just when you think you're done there is a different challenge you're not expecting. Exciting, adrenaline fuelled and a truly epic and unforgettable experience.
Routes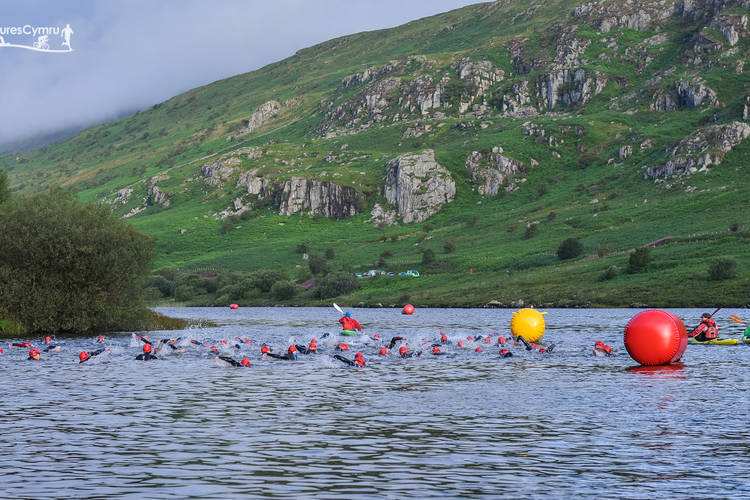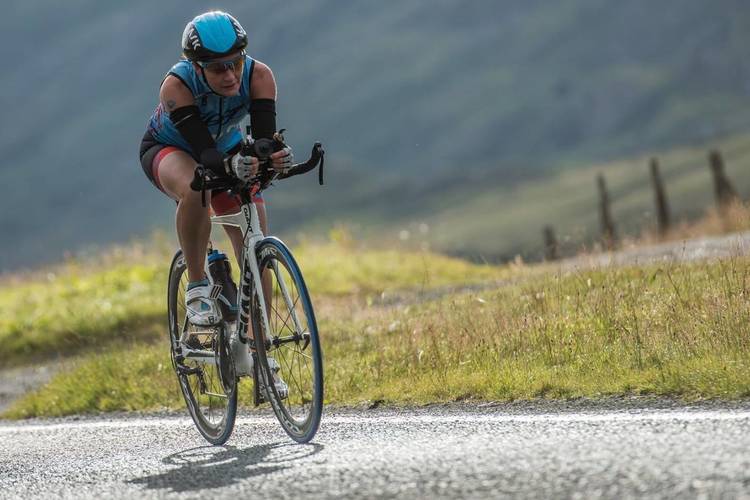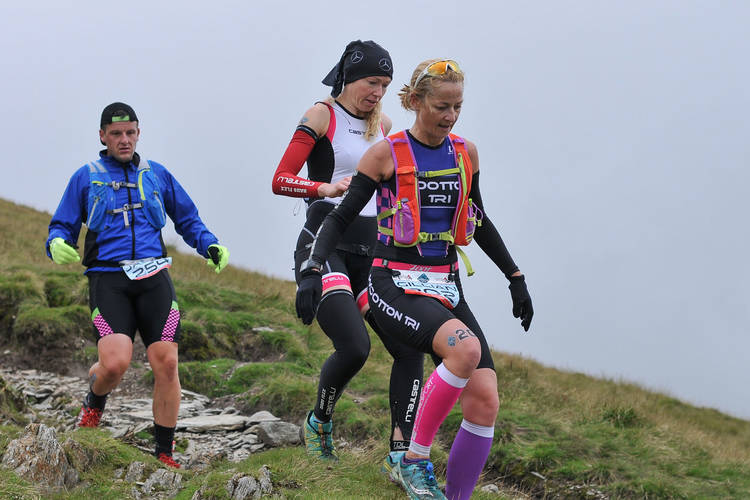 Route Description
Begin with a swim in the freshwaters of Llyn Mymbyr under the watchful eye of Snowdon. Exit the water and cross the wooden foot bridge for the first time in to transition.
The Snowman Bike route is famous for being one of the best triathlon cycle routes in the World. It takes in most of North Wales most iconic climbs and routes and is a challenge in it's own right. Starting close to the base of Snowdon, flow down the Nant Gwynant Pass and towards Beddgelert. Here you will meet the Glaslyn river cycling alongside the whitewater rapids. Heading over to Maentwrog along the narrow, winding ascents and descents you will then start your climb to Tan y Grisiau, Blaenau Ffestiniog and on up the Crimea pass. The equally steep descent flows down through Dolwyddelan and along the Lledr Valley to Betws Y Coed. From here, you're almost back, but you must make the climb up to Capel Curig and the Plas Y Brenin mountain centre before you reach transition.
There is a reason that the Snowman Triathlon regularly gets called the toughest multi terrain triathlon in the UK. That's because to complete this race you must first summit a mountain; Moel Siabod, the highest peak in the Moelwynion mountain range. Ascend up 3.5km of beautiful rocky paths before reaching the summit at 872m above sea level and turning round to run back down again. To get to the finish you must turn right and run through the forest, then back along the fire road towards the lake. The finish line framing Wales' most famous peak Snowdon awaits.
Pricing
Standard Price - Adventure Championships Standard (Slateman/Snowman/Sandman)
Ends: 01/06/2022
Pris Safonol - Safonol Pencampwriaethau Antur (Llanc y Llechi/Llanc yr Eira/Llanc y Tywod)
Ends: 01/06/2022
Important Information
Registration
Registration for the Standard Triathlon will take place on Saturday afternoon and before racing on Sunday morning. It is usually located in the Lecture Room (next to the bar) in Plas Y Brenin - LL24 0ET
On the morning of the race, registration closes no later than 30 minutes before the closure of transition.
Confirmed timings will be detailed in your Final Instructions which will be available on the website and via email 10 days prior to the race.
Please note that registration has set times for specific distances.
Wave Start Times
The first wave usually starts at 08:30. Confirmed timings will be detailed in your Final Instructions which will be available on the website and via email 10 days prior to the race.
Waves are allocated using the estimated finish time on your entry.
You'll be able to find out which wave you're in by logging onto the Live Tracker app ahead of the race. Details of this will be emailed to you along with the Final Instructions.
Transition
Transition opens early on the morning of the event and closes no later than 15 minutes before the first wave starts.
Transition will only be open for racking on the day of the event. It is not possible to leave your bike overnight. You may not enter transition for any reason after the allocated time.
Sunday: 05:30 - 08:15*

Equipment left in Transition after it closes will be removed and its security cannot be guaranteed.
*timings subject to change.
Cut Off Times
In the interest of athlete safety and the safety of our volunteers on the course there will be strict cut off times in place.
You must leave T1 (swim/bike) no later than 09.35*
You must leave T2 (bike/run) no later than 13:35*
*Timings are subject to change, confirmed timings will be detailed in your Final Instructions which will be available on the website and via email 10 days prior to the race.

Compulsory Kit
All competitors must carry the compulsory kit listed below. This kit is for your safety due to the often unpredictable and quickly changing mountain conditions and isolated nature of the route.
Spot checks will be in place and anybody found without the required kit will not be allowed to race.
Wind proof full body cover - windproof jacket windproof trousers with full lengths arms and legs
Suitable off road running shoes - fell/trail shoes
Hat and Gloves (head and hand cover)
Whistle
Emergency food
Bumbag/race vest
Foil blanket
Spare water
Suntan lotion
ADDITIONAL / ADVISORY KIT:
GPS device (watch with route downloaded)
Mobile telephone
Extra long sleeved warm layer
Compass & map (If you know how to use them)
Poles (we permit people to use poles)
Prizes
Your entry in to the Adventure Championship also makes you eligible for prizes for each individual event.
A prize giving ceremony is held after racing finishes, approximate timings will be detailed in the final instructions but listen out for any updates over the tannoy. Sometimes the ceremony may be delayed and we wouldn't want you to miss out. We don't sent out prizes after the event, so make sure you attend the ceremony and receive your big Welsh cheer!
Prize Categories for the Snowman Standard Triathlon are:
Individual (for both men and women)
Open - Top 3
Vet 40 - Top 3
Vet 50 - Top 3
Vet 60 - Top 1
Vet 70 - Top 1
U23 - Top 1

Teams
1st Mens
1st Womens
1st Mixed
covid-19 information
Please see our Covid-19 updates for information on how we are delivering Covid safe events.
We are proud that all our events are bilingual. Signs, registration and commentary are available in English and Welsh.
Working with local communities