2023 Race Report copy
Cardiff Triathlon has its biggest year yet!
More than 1600 triathletes form across the UK came down to Cardiff Bay this weekend for the biggest Cardiff Triathlon ever! The fast, flat course was full of thrills and spills and saw some incredible racing from first time novice triathletes all the way to the Elites.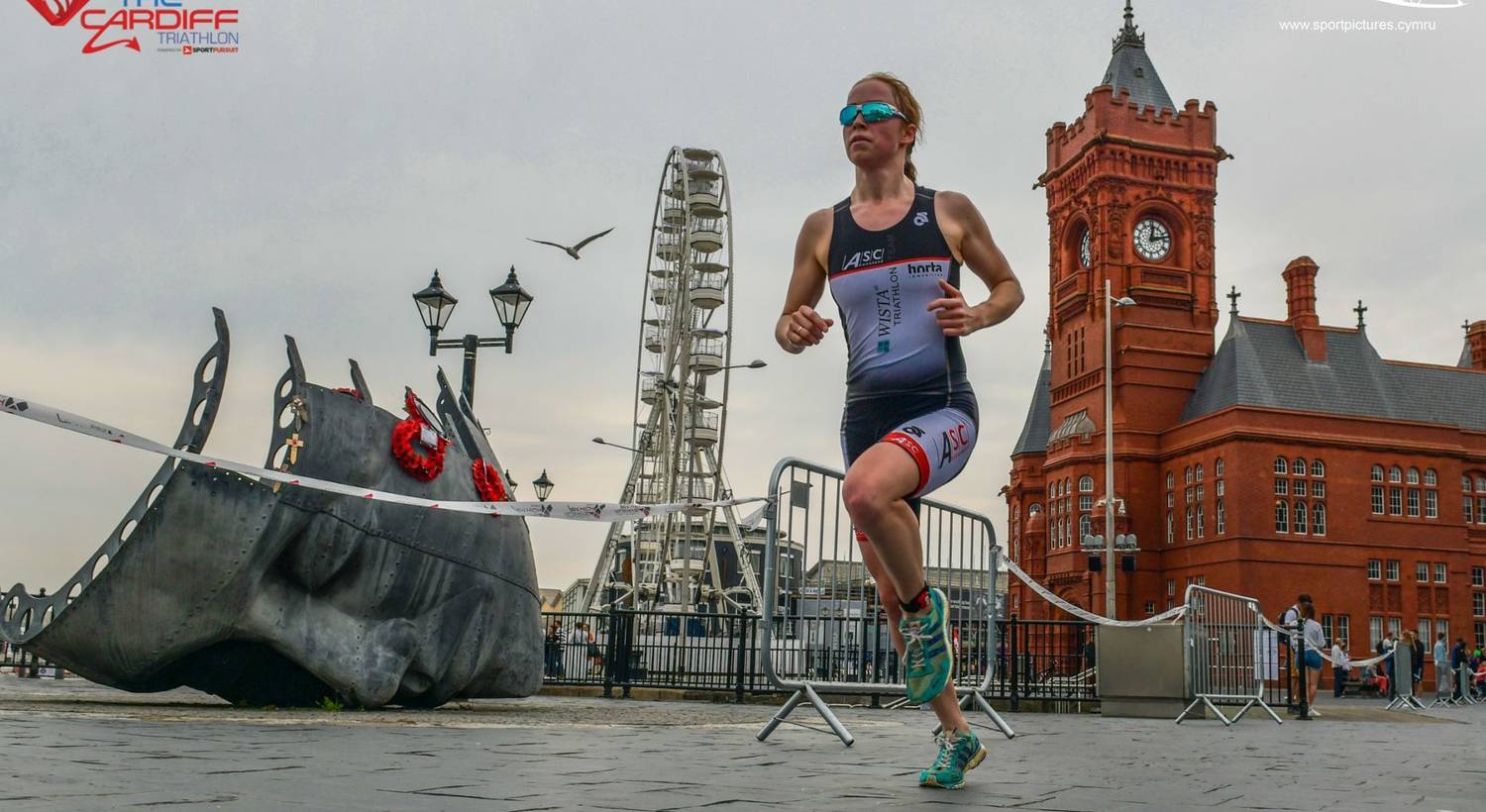 The conditions were perfect for the event and really showed Cardiff Bay, the course, and the surrounding area off to it's absolute best. The day started with an unexpected delay and change to the course with everyone moving to the Elite bike route. This didn't hinder anyone's enthusiasm for the race and the atmosphere at the start was electric.
First away was the standard distance, with the racing fast and furious from the off. Matthew Grantham (TRI-Monkey) took the top spot in a time of 01:43:09 nearly 4 minutes ahead of Lee Willians in second with a time of 01:49:52. Local boy Oliver Webb (Cardiff Triathletes) completed the podium in 01:47:04.
The women's race was dominated by one club in particular, with two Cardiff Triathletes taking the top spots. Eloise Crowley took first place in a time of 01:56:22 with club mate Katie Greenwood second in 02:01:10. Third spot went to Emily Christopher.
The Sprint Race included an ITU World Championships qualifier for Age-Group athletes, which meant the standard of competition was extremely high. The women's race was a pretty clear cut contest with Hayley Rigby taking top spot by a little under 2 minutes from Natalie Curgenven (Humber Triathletes) in second. Katie Nimmo came in just under a minute later in third.
The men's race saw a dominant return for the reigning Cardiff Standard Triathlon champion. Alex Matchett successfully took the honours beating Ollie Jones and Felix Wernham into second and third place respectively.
The Super Sprint distance held all the drama we are used to in Cardiff. In the men's race, Alistair Fletcher was first home with a healthy lead over Evan John, 3 minutes behind in second place with Marc Thomas in third. The Women's race was equally well won fought with Hannah Bidwell taking first place 2 minutes ahead of Natasha Barton in second place and Philippa Rice in third.
In addition to the ITU Age Group Qualifiers, the race also hosted the fourth round of the British Triathlon Elite Super Series. This event was invitation only from the British Triathlon Federation and represented the cream of the crop of the UK's up and coming triathletes.
The Men's race top spot was taken by Harry Leleu in 00:54:04, adding to his winning season off the back of his recent win in Blenheim. Cameron Main and Guy Evans Hegarty took second and third respectively. Chloe Cook won the women's race with an impressive time of 00:59:57, closely followed by Issy Morris and Sophia Green.
Tim Lloyd, Director of race organisers Always Aim High Events said: "We love coming to Cardiff Bay to stage this incredible triathlon. The athletes are amazing and it just keeps getting bigger and better with every year. Cardiff is a stunning city, with a huge sporting pedigree. The fact that we have the opportunity to bring such an exciting event to the capital of Wales is a real honour, especially as we are a homegrown Welsh event company. There is still lots of scope to grow and we are always looking for different ways we can improve this event."
"We added the Try-A-Tri Swim: Cardiff Bay this year and it has been really popular. It's been a great way for our athletes to swim the course and steady any race day nerves. We've got some other things up our sleeves for next year too so watch this space."
"We'd like to extend a massive thank you to every one of our athletes for making this such a special event, especially considering the unexpected challenges that were thrown at us this year. We'd also like to thank Cardiff Council for their continued support, as well as the local community in Cardiff Bay and all of the spectators that turned out to support the athletes around the course"
"Lastly, we'd like to thank our amazing marshals and volunteers, without whom we the race just wouldn't be possible"
Full Cardiff Triathlon race results by TDL Event Services can be found here, and links to race photography courtesy of Sport Pictures Cymru can be found here.
For more information on Always Aim High Event's 2019 & 2020 race calendar, visit www.alwaysaimhighevents.com.
Selected 2019 Cardiff Triathlon Results
2019 Cardiff Triathlon - Olympic
Men
Matthew Grantham 01:43:09
Lee Willians 01:46:52
Oliver Webb 01:47:04
Women
Eloise Crowley 01:56:22
Katie Greenwood 02:01:10
Emily Christopher 02:01:57
2019 Cardiff Triathlon - Sprint
Men
Alex Matchett 00:55:35
Ollie Jones 01:00:24
Felix Wernham 01:00:25
Women
Hayley Rigby 01:06:24
Natalie Curgenven 01:08:08
Katie Nimmo 01:08:17
2019 Cardiff Triathlon - Super Sprint
Men
Alistair Fletcher 00:35:39
Evan John 00:38:48
Marc Thomas 00:39:48
Women
Hannah Bidwell 00:40:04
Natasha Barton 00:42:13
Philippa Rice 00:48:05
2019 Cardiff Triathlon - Elites
Men
Harry Leleu 00:54:04
Cameron Main 00:54:12
Guy Evans Haggerty 00:54:22
Women
Chloe Cook 00:59:57
Issy Morris 01:00:19
Sophia Green 01:01:28