2017 Race Report copy
Cardiff Triathlon has its biggest year yet!
More than 1600 triathletes form across the UK came down to Cardiff Bay this weekend for the biggest Cardiff Triathlon ever! The fast, flat course was full of thrills and spills and saw some incredible racing from first time novice triathletes all the way to the Elites.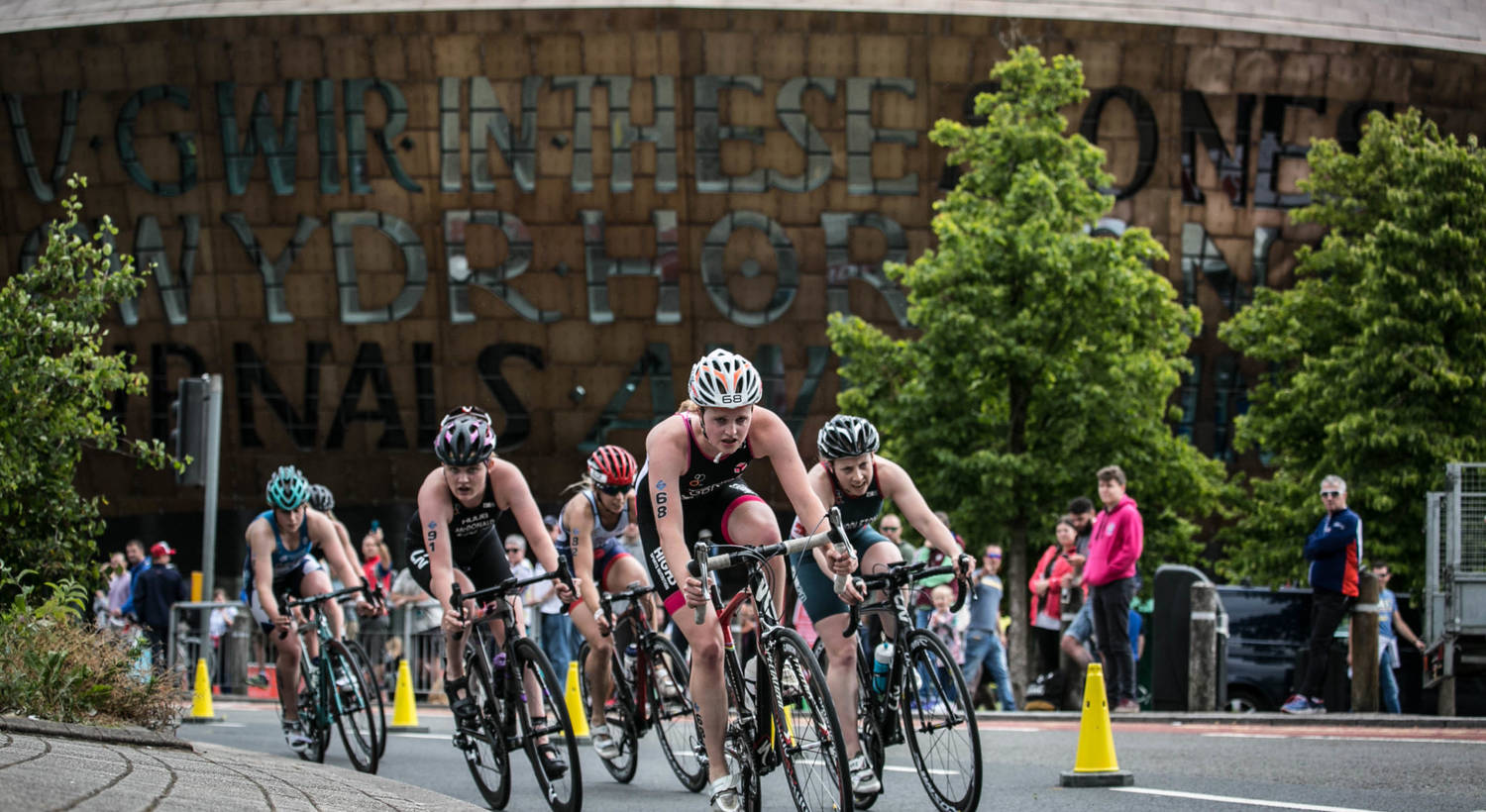 Sunday 25th June saw a record number of competitors and thousands more spectators descend on an initially wet Cardiff Bay for an action-packed Cardiff Triathlon.
A record-breaking 1,400 triathletes kicked off proceedings in the 20-degree waters off Cardiff Bay with three distances on offer - Olympic, Sprint and Super Sprint. This was followed by bright and sunny conditions for the British Triathlon Elite races later on in the morning.
A first for the Cardiff Triathlon was the British Triathlon Elite races. These races were packed with scintillating and incident-packed racing from front to back and were broadcast live online via Welsh language channel S4C. Two time World Triathlon champion Helen Jenkins was on hand to kick off proceedings, as well hand over the £10,000 in prize money to the lucky podium finishers.
In the Elite men's distance, the racing at the front of the pack was incredibly close with Adam Bowden emerging on top after a strong run leg ahead of TriUK's Chris Perham and Iestyn Harrett.
A similar scenario developed in the Elite women's race, with Leeds Triathlon's Beth Potter, Julie Nimmo and Yonda Racing's Bronwen Owen trading places throughout the race. In the end, Beth crossed the line at the end of a thrilling race in first place ahead of Julie in second, and Bronwen in third.
In the Olympic men's race, Ross Simpson took first place thanks to a strong swim holding off second place Gareth Hodgson and third place Dan Whaites. The women's race was won by Laura Clements, ahead of Ruth Jones (second) and Hereford Triathlon Club's Gaia Mazza in third.
The sprint distance of the Cardiff Triathlon was another closely fought race. In the men's race, less than a minute separated Marc Davies in first, Daniel McFeeley in Second and Matt Hamilton in third, while in the women's race Jemima Cooper stormed ahead after a strong run leg, leaving Emma Hill and Sophie Thomas rounding off the top three.
For the third year in a row, the Super Sprint proved popular with novice and first-timer triathletes. Over 100 took part in the race which was won by Claire Forbes and Daniel Kerr. Reaction on social media was incredibly positive, on Facebook, Dave Roberts said: "Great event and organised amazing as usual, first full triathlon completed - thanks for all the effort put in."
While on Twitter, @carsonpryce said: "Loved it! What a fantastic, well-organised race. Keep up the good work guys!"
A spokesperson for Always Aim High, the organisers of the Cardiff Triathlon said: "It was incredible to see so many people turn out to either take part or support the triathletes at the Cardiff Triathlon!"
"The weather offered a challenging spin on this fast race, with rain showers giving way to warm and breezy conditions - making the ground greasy under wheel and foot."
"The British Triathlon Elite races provided a thrilling conclusion to an already exciting race day, and thousands turned up at the finish line in Cardiff Bay to watch the action live on the jumbo screen."
"We'd like to thank Cardiff Triathlon partners SUUNTO, Pedalcover Insurance, HIGH5, AquaSphere, Zoot and Superfeet and Cardiff Council & Visit Wales for their continued support. The Cardiff Triathlon will be back in 2018 bigger and better than ever before."
Full race results by TDL Event Services are now available at alwaysaimhighevents.com
Event images for the Olympic, Sprint, Super Sprint and British Triathlon Elite races can be found at melparryevents.com and sportpicturescymru.co.uk
Online entries for the 2018 Cardiff Triathlon will open Monday 26th June at a specially discounted rate which will only be available for ten days. For more information visit alwaysaimhighevents.com
Selected Cardiff Triathlon Race Results
British Triathlon Elite Sprint - Men
1st Adam Bowden 00:56:19
2nd Chris Perham 00:56:54
3rd Iestyn Harrett 00:56:56
British Triathlon Elite Sprint - Women
1st Beth Potter 01:04:13
2nd Julie Nimmo 01:04:51
3rd Bronwen Owen 01:05:07
Cardiff Triathlon Olympic - Men
1st Ross Simpson 01:52:27
2nd Gareth Hodgson 01:54:33
3rd Dan Whaites 01:56:38
Cardiff Triathlon Olympic - Women
1st Laura Clements 02:13:56
2nd Ruth Jones 02:14:54
3rd Gaia Mazza 02:18:28
Cardiff Triathlon Sprint - Men
1st Marc Davies 01:06:23
2nd Daniel McFeeley 01:06:33
3rd Matt Hamilton 01:06:58
Cardiff Triathlon Sprint - Women
1st Jemima Cooper 01:14:34
2nd Emma Hill 01:16:01
3rd Sophie Thomas 01:18:06
Cardiff Triathlon Super Sprint - Men
1st Daniel Kerr 00:48:34
Cardiff Triathlon Super Sprint - Women
1st Claire Forbes 00:36:26