Tier 1 Entries Open on the 23/9/23
Routes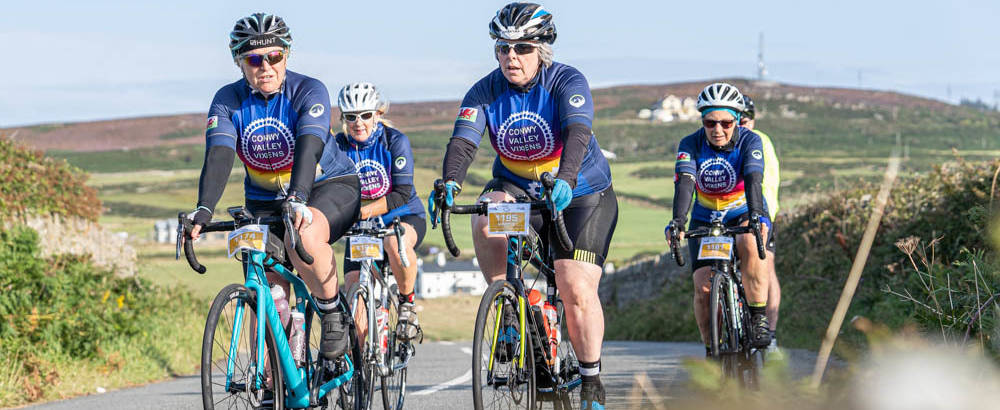 Route Description
The Tour De Mon Canol is 77 miles of stunning riding around one of the UK's most beautiful islands. With such a varied route there is always something to keep your mind off your legs, don't be fooled that Anglesey is flat! Take the coast road out of Holyhead and enjoy the coastline and the views out to sea. After just 10 miles into your ride you'll have the chance to do the incredible Flying Mile timed section through RAF Valley and challenge yourself to see juts how fast you can go. After this you ride through rolling countryside and quaint villages on quiet country lanes. Make your way through Bryngwran, Gwalchmai, Bodfordd, Llanerchymedd, Moelfre and on to Amlwch and then cut inland slightly before heading back through Valley and back home to Holyhead.
Pricing
CANOL - ADULT Tier 1
Ends: 24/09/2023
CANOL - ADULT Tier 2
Ends: 04/08/2024
CANOL - ADULT Tier 2
Ends: 16/08/2024
CANOL - JUNIOR (AGE 13-16)
Ends: 16/08/2024
Important Information
Minimum Age
You must be at least 13 years old to take part.
Riders under the age of 16 must be accompanied by a parent or guardian.
All riders under the age of 18 must have parental consent to enter the event, if consent is not given you will not be allowed to enter. The parental consent agreement is built into our online entry process.

Registration
You will need attend registration which will take place on Saturday afternoon and before the event on Sunday morning - we will confirm specific times in your Final Instructions, which will be available on the website and via email 10 days prior to the race.

Registration is usually located in Holyhead, on Beach Road adjacent to Newry Beach - LL65 1YD.
Start Time
The Canol ride usually starts between 08:00 - 08:30 though this is subject to change. Riders will not be allowed to leave after the allotted time. The start time will be confirmed in the Final Instructions which are available to view on the website 10 days prior to the race.
We encourage slower cyclists to start towards the front of the allotted time slot.
Groups of no more than 25 riders will be allowed to start together, groups will be set off at 3 minute intervals.
Cut Off Times
In the interest of rider safety and the safety of our volunteers on the course there will be staged cut off times in place:
cyclists must get from the start to the Flying Mile at RAF Valley (11.2 miles) by 11:00, after this time you will not be permitted to access the airfield due to flying operations in progress.
cyclists must arrive at the junction at the centre of Bodffordd, where the Canol and Bach split (approx. 23.3 miles) before 11:00. After this time cyclists are directed onto the Tour Bach route.
chip timing will stop at approximately 18:00.
A confirmation of specific timings will be detailed in your Final Instructions which will be available on the website and via email 10 days prior to your race.
Bike Breakdown
You will be expected to carry inner tubes as well as all tools and kit necessary for any on-route cycle repairs. We advise that you carry a mobile phone. There will be event vehicles patrolling the route who may be able to carry out very minor repairs.
Come prepared because the roads are much too nice for you not to enjoy them from your bike!
We are proud that all our events are bilingual. Signs, registration and commentary are available in English and Welsh.
Event Partners Tour de Môn 2024
Working with local communities