2021 Race Report
A beautifully challenging course for 2021's Angelsey Trail Half Marathon & 10k
More than 400 runners from all across the UK headed to Newborough Forest on Sunday 14th November for our sold-out Anglesey Trail Half Marathon & 10k.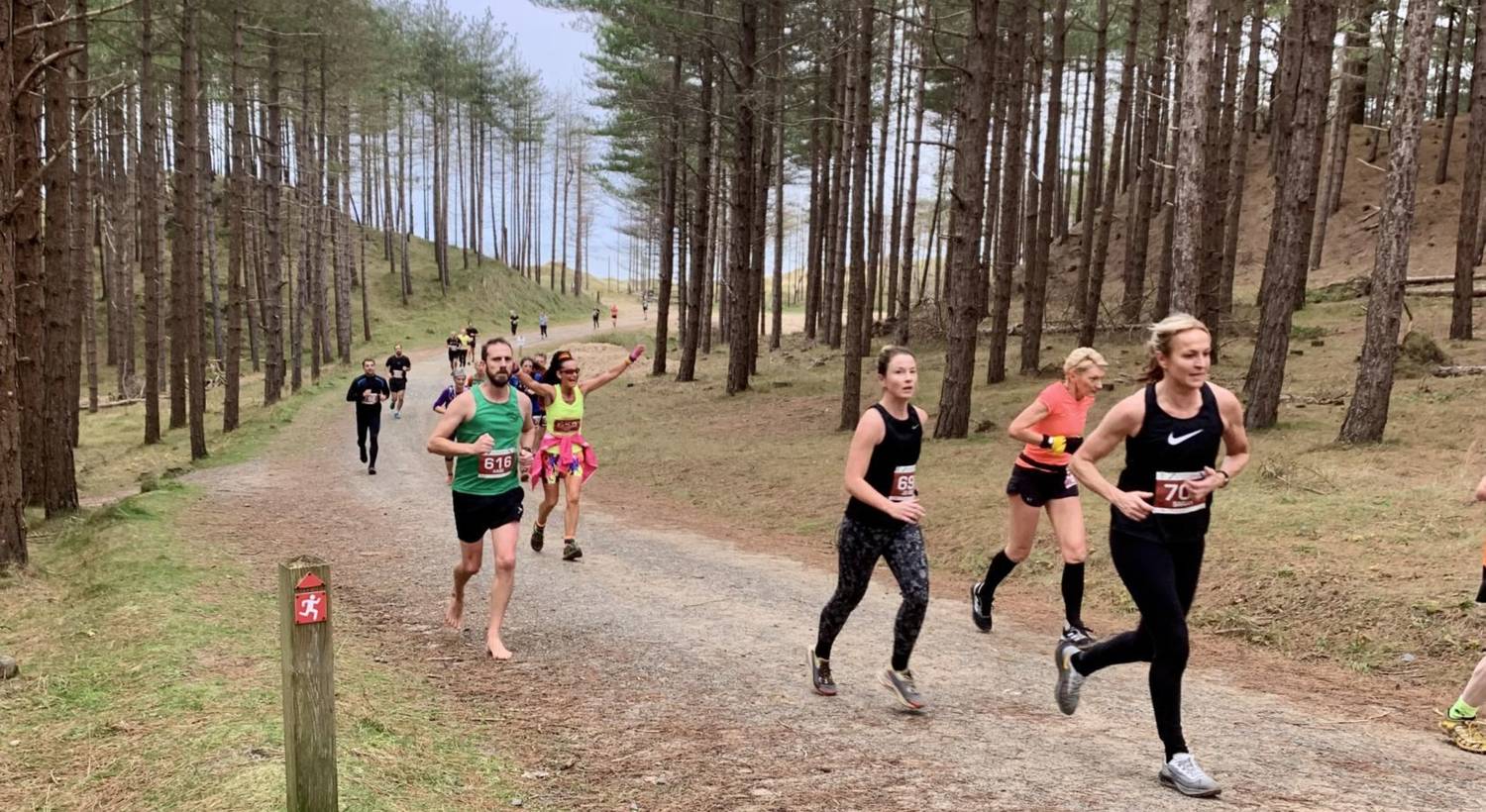 November is not its usual spot on the race calendar but the new date for the Anglesey Trail Half Marathon & 10k was a great success. After being deferred 3 times it was great to finally be able to run this popular event again. The sold-out event attracted all levels of runners, with everyone from experienced trail runners to first-timers.
Conditions were perfect from the get-go, with little wind and no rain. With a brand new course for 2021, runners were treated with a rare opportunity to run on Llanddwyn Island before heading into beautiful trails in Newborough Forest. The tough course looped around to bring runners back to where they started and a heroes' welcome from the spectators and the commentary on the finish line.

The half marathon was the first to set of at 9:00 am with over 200 runners gathered on the start line ready for the off. The women's Half Marathon saw Claire Walton take the win in an incredible 01:33:58. Second place was taken by Liz Mahon in 01:39:58 followed by Eleanor Ashcroft in third with a time of 01:41:31.
The men's race was won by a local runner Russell Bentley of Eryri Harriers in an astonishing 01:18:18! Coming in second from Calder Valley Fell Runners was James Logue in 01:24:29 with Jonathon Kettle (2019's winner) coming in third place.
New for 2021 saw the Canicross event which attracted over 30 dogs and their owners. This race set off at 09:45 am and saw them take on the same 10k route as the main event. Crossing the finish line first was Jocelyn and her dog Jack in 00:47:06 taking the overall win and 1st female with Tim Plested from Village Road Runners and his dog Charles taking the win for the male's race in 00:50:09.
The 10k race got underway at 10am and saw a further 175 runners head out into the challenging trails in Newborough Forest. The men's race was won comfortably by Rhodri Owen in 00:37:57 followed just 2 minutes later by Jonathon Tyler of Betsi Runaways in a time of 00:40:21. Taking third place was Alan Webster in a time of 00:43:39.
The women's 10k was dominated from the start by Katie Reynolds of Eryri Harriers who came in at 00:46:48 a good 3 minutes ahead of Kristen Crandell in second place with a time of 00:50:01. Taking third place on the podium was Phillipa Roberts in a time of 00:50:48.

We are proud to say that our Anglesey Trail Half Marathon & 10k was our first cupless event. Feedback about the cups was great and very positive. Going forward into 2022 all of our trail race participants will be issued with a lightweight, foldable, re-usable cup and we will encourage participants to re-use these for all future races.

Nigel Kendrick, Director of Always Aim High Events, said: "It was great to finally be able to run this event after it being pushed back 3 times. This already stunning route was made even more special this year with our route being able to take in the wonderful Llandwyn Island. This was a really unique opportunity for our runners as in its usual place in the race calendar the event can not run on the island due to the environmental importance of nesting birds.

"It was great to see runners from all of the UK making the trip over to Anglesey, many of whom stayed for the weekend, making a great contribution to the local economy here during the usually quieter shoulder season.
The event will return to its usual spot of 22nd May 2022 but after today's success we won't rule out the possibility of it returning again as an Autumn event.

"We'd like to thank all of the race partners, as well as all of the supporters that turned out to support the runners around the course. We'd also like to thank Natural Resource Wales for all of their support in organising this event".
"Finally, we'd like to thank our amazing marshals and volunteers, without whom the race just wouldn't be possible".
View full race results for the 2021 Anglesey Trail Half, 10K and Canicross.
Race photography was provided by Mel Parry Event Images Images.
Entries are now open for the 2022 event which will be on Sunday 22nd May with early bird pricing available for the first 6 weeks.
Selected 2021 Anglesey Trail Half Marathon, 10k & Canicross Results
Half Marathon
Men
Russell Bentley 01:18:18
James Logue 01:24:29
Jonathon Kettle. 01:28:30
Women
Claire Walton 01:33:58
Liz Mahon. 01:39:58
Eleanor Ashcroft 01:41:31
10k
Men
Rhodri Owen 00:37:57
Jonathon Tyler. 00:40:21
Alan Webster 00:43:38
Women
Katie Reynolds. 00:46:48
Kirsten Crandell 00:50:01
Phillipa Roberts. 00:50:05
Canicross 10k
Women
Jocelyn Williams 00:47:06
Jessica Denman 00:47:42
Lynsey Coan 00:48:31
Men
Tim Plested. 00:56:35
Ed Gallagher 00:59:07
Ian Snailham 01:11:42