2022 Race Report
A Bay To Remember at the 2022 Cardiff Triathlon
After a two year break it was very special to see the spectacular sight of over a thousand bikes lined up in the Cardiff Bay Basin once again.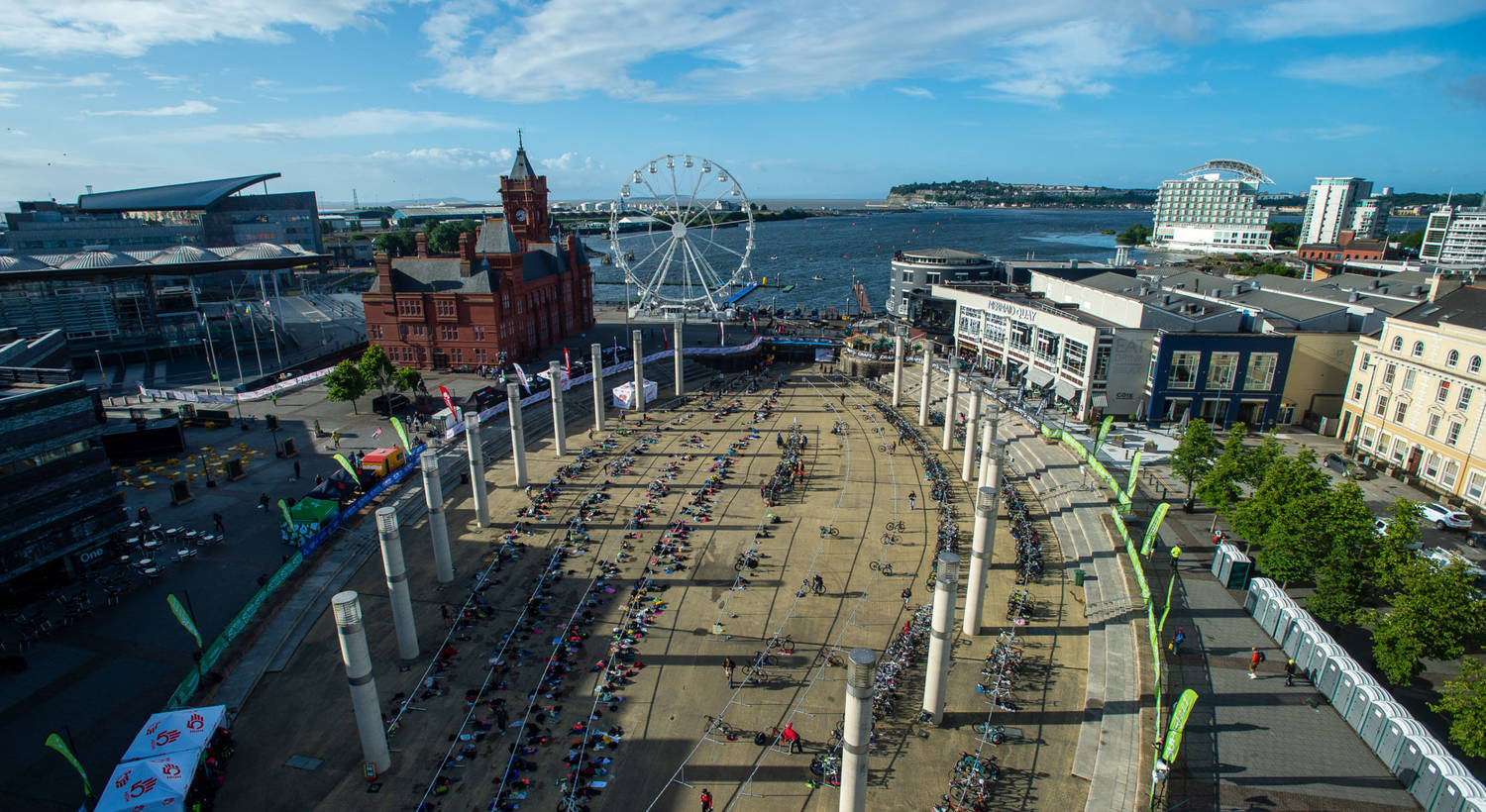 The sold out 2022 event was welcomed back in the Welsh capital city and spectators lined the routes and filled the Event Village adding to the big event atmosphere and sense of occasion.
Not to be outdone by the impressive setting, the athletes stepped up to impress further with a display of top level racing at it's best.
In the triathlon, competitors raced in four distances Super-Sprint, Sprint, Olympic and new for 2022 Always Aim High Events introduced their popular half Iron distance the 'Legend'.
Legend
It was an early start for Legend athletes who started their race in a windy Cardiff Bay at 05.15. The conditions didn't give the endurance athletes a kind start but the Legends were here for a challenge.
Nikola Peric proved himself a Legend in more ways than one. First out the water he held the lead throughout, eating up the 90km bike and 20km run to hold the lead and cross the line in an impressive 4.28.26. Justin Marshall followed across the line just under 8 minutes later Elliot was third making up an impressive first Cardiff Legend podium.
In the ladies race, it was a harder fought battle. Elizabeth Jackson was first out the water and had a superb bike holding the lead, but an outstanding run from Claire Mckinnel took her across the line in 5.28.32 over 10 minutes ahead of Jackson to claim her place as the first female Cardiff Legend.
Olympic
The Mens Olympic was won by Matthew Grantham who moved up the standings through the bike and finished with an impressive run to take the top spot on the podium. Jack Smith took second after moving from third to first in the bike. Iwan Jones produced the best bike time of the day and a great run to finish third and complete the podium.
In the ladies Alice Watson played the game perfectly; 3rd out the water she moved in to second after the bike and then put in the ladies run time of the day to cross the line in 1st. Claire Gwennan put in a terrific battle coming out of the water in 4th then taking the lead in the bike and finishing less than a minute behind Watson. Lyndsey Newcombe was third after a consistent performance throughout.
Sprint
The Men's sprint provided the closest and most exciting battle of the day as Patrick McDowell and Rob Morgan fought for first place. Morgan had the lead off the bike but with just seconds to play with was overtaken in T2 by McDowell who held the lead to take the win. Christopher Melbourne was third after an impressive swim and solid performance throughout the bike and run.
In the ladies Amy Concannon was first out the water, dropping down a couple of places after the bike but refusing to stay anywhere but the top and fighting back with a super run to take first place. Ruth Jones was second with a solid performance throughout and Jennifer Cynan Jones was third, with the fastest bike split of the women.
Super Sprint
It was a difficult cross wind swim for the Super-Sprinters but it was Beth Connoly who led the pack out of the water with a superb swim followed by Fraser Harris and this pair continued to perform through the bike and run to top the podiums for the ladies and the men comfortably ahead of second place.
Duathlon
In The Duathlon, it was Sarah Ward taking the win for the ladies with a strong performance across both runs and a solid bike finishing just 19 seconds ahead of Alice Robinson. John Fitzpatrick took the win for the men in an even closer finish, just 5 seconds ahead of Peter Douglas.
Nigel Kendrick, Director of race organisers Always Aim High Events said: "Cardiff Bay is an incredible stage for a triathlon and we are so proud to host this event in our capital city. The athletes are amazing and it such a buzz to be back after two years and witness such quality racing.
We brought the Legend this year which has been very well supported our try-a-tri open water swims have soared in popularity which is fantastic to see. The swimmers did so well in some challenging conditions and it's a pleasure to run these events alongside the triathlon and duathlon.
We would like to say a massive thank you to every one of our athletes for making this such a special event, and for continuing to support us through a difficult few years. We'd also like to thank Cardiff Council for their continued support, as well as the local community in Cardiff Bay and all of the spectators that turned out to support the athletes around the course"
"Lastly, we'd like to thank our amazing marshals and volunteers, without whom we the race just wouldn't be possible"
Full Cardiff Triathlon race results by TDL Event Services can be found here and links to race photography courtesy of Mick Hall Photography can be found here.
Selected 2022 Cardiff Triathlon Results
Legend
Nikola Peric 04:28:26
Justin Marshall 04:36:11
Jake Elliot 04:38:54
Women
Clare McKinnell 05:28:32
Elizabeth Jackson 05:36:28
Carla Stokes 05:42:11
Olympic
Men
Matthew Gratham 01:54:52
Jack Smith 01:56:52
Iwan Jones 01:57:22
Women
Alice Watson 02:22:47
Claire Gwennap 02:23:59
Lyndsey Newcombe 02:26:41
Sprint
Men
Patrick McDowell 01:04:54
Rob Morgan 01:05:26
Christopher Melbourne 01:06:41
Women
Amy Concannon 01:16:56
Ruth Jones 01:20:37
Jennifer Cynan Jones 01:20:45
Super Sprint
Men
Fraser Harris 00:40:01
Jeremy Holmes 0:45:07
Paul Stonuary 00:47:28
Women
Beth Connolly 00:47:20
Emma Collins Jones 00:52:11
Louise McKeen 00.52:11
Duathlon
Men
John Fitzpatrick 00:57:01
Peter Douglass 00:57:06
Rhys Davies 01:12:21
Women
Sarah Ward 01:11:04
Alice Robinson 01:11:23
Jane Beech 01:15:32
Race report and results for the British Age Group Sprint Distance Triathlon Championships/ World Triathlon Age Group Qualifier and 2022 Welsh Triathlon Sprint Championships will be published by British Triathlon. We will place a link here as soon as they are available.